We are very proud of the labradors Duckback has produced. They provide their owners with endless hours of fun, play, work and companionship.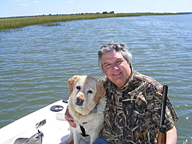 Mary Sue and George went duck hunting with their dog Georgia.
Mary Sue says, "There was a very high tide(6' 8")P, which is a requisite for marsh hen hunting, so we went back up in the creeks and the marsh hens were there! When they flew, George shot and Georgia jumped off the bow of the boat and retrieved! They were amazing! George would shoot -- Georgia would jump in and swim -- and she would return with the bird. George didn't miss a shot and Georgia didn't miss a bird! We came home with seven or eight!"


Pictured above is Susie …. Retired and living happily at Ann Viklund's after many years of fantastic retrieving work in Illinois. Believe it or not, she is 13 years old here!
If you have a Duckback Lab and want it displayed on this page, email the photo to us at duckbacklabs@rtmc.net